Welcome to Maryville Bed & Breakfast family run home.

Maryville Bed & Breakfast is a comfortable spacious home.  Bord Failte Approved 3 Star B & B Accommodation. All our rooms are en-suite with T.V, tea/coffee – making facilities and hairdryers, breakfast conservatory and guest lounge, landscaped garden, patio area and private parking.
Ballycommon is a quiet peaceful village just 4km outside Nenagh on the R495 to Dromineer Bay on Lough Derg.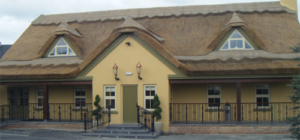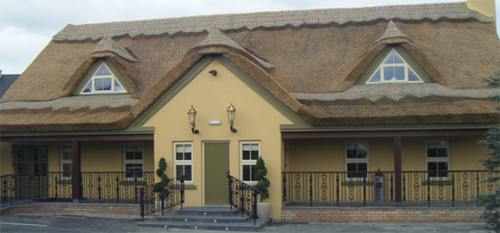 Maryville is just a 3 minute walk to the Thatched Cottage Bar/ Restaurant in the village that offers a wide range of food to suit all tastes and is available daily from 1pm until 9pm. You can also enjoy music sessions, some traditional, at the weekends. Thatched Cottage Ballycommon – Website In the village, there is also an excellent shop with deli counter and coffee machine. The picturesque lakeside Village of Dromineer on Lough Derg, just 5 minutes drive from Ballycommon, is an ideal place to spend an evening. Take a walk around the shoreline or sit and relax and watch the sunset over Lough Derg. A picturesque view of the harbour in Dromineer Bay with the castle ruins dominating the background. Hanly's Woollen Mills and Visitor Centre at Ballyartella on the banks of the Nenagh River is 1 km from the village and is well worth visiting. The commercial Town of Nenagh 4km from Ballycommon, has a wide range of shops to suit all tastes, craftshops,restaurants, bars and many fine old buildings. We are sure you will enjoy your stay in this scenic area of North Tipperary.
Guest Remarks
Very, very good B and B in Nenagh. One of the best. Thanks. Michael and Joan Mason, Leics, England.
We spent a night in this wonderful bandb so fresh, so clean, wonderful: Margaret Daly, Galway.
Decorated beautifully. What a comfy bed & breakfast home in Nenagh County Tipperary. Wonderful hostess. Mark and Ann Marie Grace, New Jersey, USA.
This has been a lovely holiday with the finest of food beautifully cooked. Thank you: Margaret Lakeland, Accrington, UK.
Excellent B & B Accommodation. Will come again. Thank youvery much: Noelle and Miranda, Surrey, England.
Warm and comfortable, friendly, very good breakfast. Stephanie Labbike, Mechleisen, Germany. To book: Telephone us at (+353)+(0) 67 32531.
You can also book through E-mail
Maryville Bed and Breakfast Accommodation | Ballycommon near Dromineer Nenagh Co Tipperary